National Series, JumpSTART and GymSTART - Wrap up!
7th November 2023, 22:16p.m. | National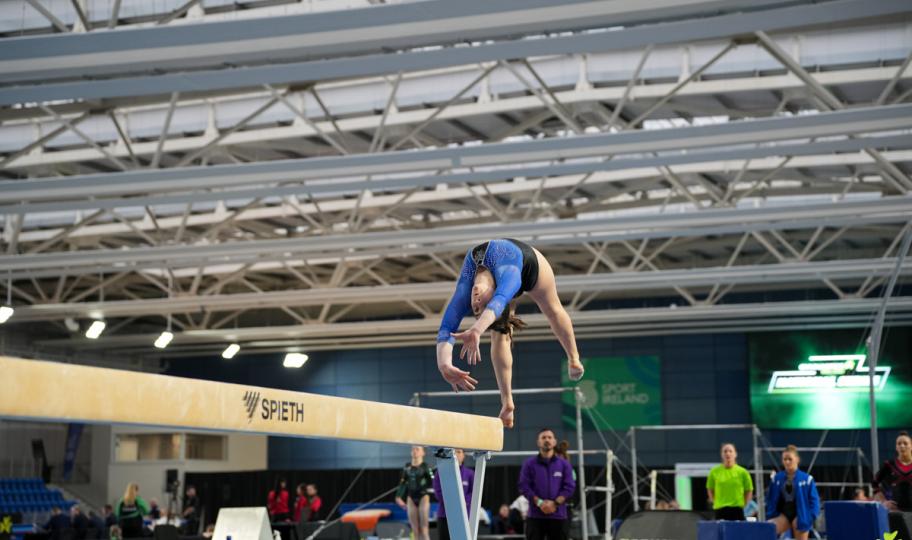 The National Series Gymnastics Team Championships, the JumpSTART Competition and the GymSTART Challenge events took place at the weekend in the Sport Ireland National Indoor Arena. 
The National Series Gymnastics Team Championships saw over 800 gymnasts compete across 2 days from intro levels all the way to FIG international levels including gymnasts from Acrobatics, Men's Artistic, Women's Artistic, Rhythmic, Trampoline and Tumbling. Members of our senior Men's and Women's Artictic National Squads including Pommel World Champion Rhys McClenaghan and European finalist Emma Slevin impressed the audience with their perfomances during their discipline trials with around 1500 spectators onsite supporting.
On Saturday, the JumpSTART event saw over 200 gymnasts competing from all around the country showcasing their talent and skills in Acrobatics, Rhythmic, Trampoline and Tumbling. This discipline-focused participation event's programme provides recreational members with the opportunity to compete in one or disciplines, as an individual gymnast, as part of a discipline team or part of an overall club team. As well as acting as the bridge between GymSTART Floor and Vault Competition and National Series.

Sunday morning saw over 100 gymnasts participating in the GymSTART Challenge event with over 200 people supporting
Our resident media company Hello Deer shot some amazing video and photo highlights of both days which are available on our Facebook page.
The complete list of results from the weekend can be found by clicking here...
Attention now shifts to the upcoming GymSTART Floor and Vault Competition on 2nd & 3rd December in the University of Limerick Sports Arena. More information will be made available to clubs soon.
Huge congratulations to all the national team champions of 2023!

For more exciting gymnastics news like us on Facebook, Instagram, X, LinkedIn and YouTube #GymasticsIreland #Sportstartshere #NationalSeries #JumpSTART #GymSTART